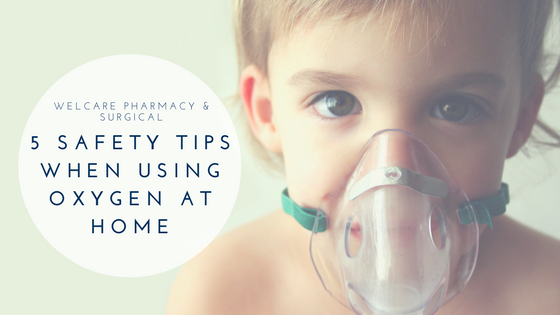 For people who are experiencing severe pulmonary problem and breathing disorder, oxygen supplementation is a life saver. Oxygen therapy is prescribed to supplement the amount of oxygen that the body needs when it can't be acquired naturally. Normally, doctors determine the amount of oxygen that has to be delivered by looking at the oxygen saturation in the arterial blood of the patient. Depending on the results, oxygen therapy can be given intermittently or continuously in order that those who are suffering from asthma, COPD, pneumonia can easily get relief from their breathing and oxygenation issues.
When you have loved ones who are advised to have oxygen therapy at home, it is imperative to understand the safety mechanisms to be put in place because the use of oxygen carries risks. Remember that it is a highly combustible gas and it can result in explosion and risk of fire when not used properly. Here are safety tips from Welcare Pharmacy & Surgical you need to know:
Tip #1: Be careful where you store it. When you have oxygen canisters purchased from Medical Supply Store which you store at home, make sure that you are putting them in an upright position and that they should be kept away from any heat and direct exposure to sunlight. See to it that you have an oxygen storage cart where you can place all the canisters securely.
Tip#2: Have smoke detectors. Prevention is always better than cure. Having smoke detectors that could potentially alert you of any fires breaking out will help keep your homes safe as you are using oxygen. Even the smallest amount of fire accidents at home could potentially lead to deadly consequences if there are oxygen tanks near it. It is imperative to always have the right mechanisms to prevent catastrophic events.
Tip #3: Read safety guidelines. Always acquaint yourself on the proper ways of using the oxygen equipment at your house. Different manufacturers of Medical Supplies in Brooklyn, New York have specific guidelines in operating the machine which you need to know about so that you can understand how it works, what are certain things you need to be alarmed about, and so you can efficiently and effectively manipulate the equipment at home.
Tip #4: Never smoke. When you have loved ones or visitors who are chain smokers, it would be best to inform them to stop smoking in the house to prevent the incidence of fire. In fact, statistics has it that around 90% of deaths related to oxygen use at home is linked to cigarette use.
Tip #5: Coordinate with your power supply distributor. Talk to your power distributor that you are using oxygen at home. This way, you will be given priority in times of power service interruption. You can likewise be aided in the use of power generators when the electricity is out. You also need to know guidance from an electrician on what to do with your oxygen supply and machine when the power is out.
Although there are risks associated with the use of oxygen at home, all these risks can be put to a minimum when standard and safety tips are followed. It is always better to be safe than sorry, thus religiously following the tips above will save you from any eventualities that may come to your house.